Older adults are twice as likely to be killed or injured by fires compared to the population at large. Fires and burns are not the only hazards that threaten our older citizens. Statistics show that falls are the leading cause of unintentional injury in the home. Here is information to help prevent injuries among older adults and help them live safely at home.
Space heaters should have a minimum of a three-foot clearance of combustible material.
Wear tight fitting or rolled up sleeves while cooking over the stove.
Never leave cooking unattended.
Do not cook when you are drowsy.
Cool burns with cool water for 10 to 15 minutes.
Remember to stop, drop and roll if your clothes catch fire.
Make sure that you know what your smoke alarm sounds like, and test them once a month. Change the batteries twice a year.
Call 9-1-1 for emergencies, Have the number posted near your phone.
Physical exercise will build strength and improve your coordination.
Take your time getting out of chairs and out of bed. Get your balance before you start to walk.
Clear the stairs, hallways and walkways of trash, electrical cords and clutter.
Have your eyes checked regularly. Poor vision can increase your chance of falling down.
Use non-slip mats in the bathtub or shower. Install grab bars near the toilet, shower and bathtub.
Use only throw rugs with rubber non-skid backing.
Have handrails installed along the full length of both sides of stairs inside and outside the home.
Wear sturdy, well-fitted low heeled shoes with non-slip soles.
Wet cigarettes butts and ashes before emptying ashtrays into the trash.
Never smoke while you are lying down, drowsy, in bed, or on medication.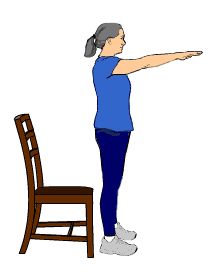 For more senior citizen safety resources, visit the National Fire Prevention Association website: https://www.nfpa.org/Public-Education/Teaching-tools/Remembering-When