CERT - Community Emergency Response Team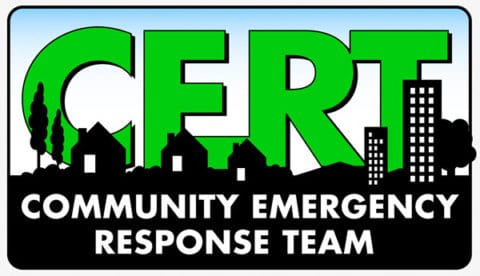 Being prepared in an emergency situation is critical. In the last 10 years, Ventura County residents have experienced wildfires, floods, mudslides, and earthquakes. Ventura County Fire Department in coordination with Federal Emergency Management Agency (FEMA) have joined together to assist its' residents with
disaster preparedness education and training
. Would you know what to do if an emergency struck your community, school or workplace? After a disaster, professional responders will be needed everywhere. The Community Emergency Response Team (
CERT
) program teaches community members about the potential disasters that could affect their area and how to safely and responsibly respond to them.
CERT
educates volunteers in basic disaster response skills, such as fire safety, team organization, hazards that may impact their area, and disaster medical operations.
The Hybrid
CERT
program consists of online courses (9 units) that you are able to do online, at your own pace. Once completed, you will follow up with your local
CERT
Coordinator to complete the hands-on practical portion and receive your full
CERT
credentials. Each graduate will receive a manual, a
CERT
Disaster start-up pack (helmet, gloves, vest, and goggles), and a certificate of completion.