Each year, more than 500,000 pets are affected by house fires. Everyone in our homes needs protection, including our pets. Check out smart pet fire safety strategies that help your family and your pets stay safe in case of a fire at home.
1. Don't Let Pets Start Fires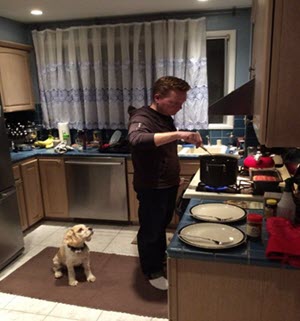 Don't allow pet patrol in the kitchen while you're cooking. All those wonderful aromas can tempt an agile cat or dog to investigate the stovetop, and that can lead to a kitchen fire disaster.
A tall dog can turn on the oven or stove with just a quick lift of the paw. Avoid this accident by protecting control knobs with covers or removing them when you leave the house.
When it's cold outside, pets are attracted to the warmth of fireplaces and space heaters. Encourage them to safely snuggle up in their own beds away from open flames and heating elements.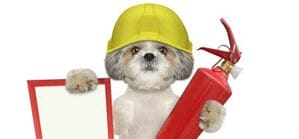 2. Have an All-Inclusive Fire Response Plan
Assign each pet to a family member who's responsible for ensuring quick passage out of the house. Store leashes and carriers close to exits for fast, easy access.
The noise and excitement of a fire can scare pets into their own safety zones. Confirm their hiding spots now so that you can quickly round them up during a home evacuation.
Develop an advanced plan for sheltering the pets in case you can't return to the house for several days. Check with pet-loving neighbors who might be willing to exchange emergency housing favors.
Put together a dog- or cat-centric survival kit. Stock a small bag with a few cans of food and any necessary pet medications as a part of home fire evacuation supplies.
3. Protect Your Pets Inside and Out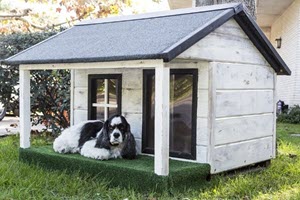 Make the dog house safer for outdoor canines who prefer sleeping in their own space. Keep the area clear of plants and materials that can burn. Don't isolate your pet with closed gates or tall fencing.
Replace collars and leashes at the first signs of wear. They become a lifeline between you and your pet during a fire. Also, update tags and microchips with any changes in your contact information.
If your pet doesn't always come when you call, put in a little extra training time so that you can count on a positive response. This can be a pet lifesaver in case of fire.
Firefighters need to know if there are animals in a burning house. Pet Alert Stickers in windows can save four-legged lives especially if you aren't home when a fire breaks out. Free Pet Safety Packs which include Pet Alert Stickers are available from the ASPCA, click HERE.