Home fire safety starts with planning.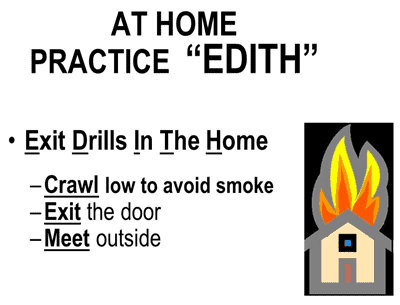 Performing Exit Drills in the Home (EDITH) can help you and your family prepare for an emergency. Most home fires occur at night when people are the least prepared. If you and your family have not practiced how to escape during an emergency, home fires can become a disaster.
Practice fire drills regularly using your escape plan.
GET OUT of the house and STAY OUT!
Crawl low under the smoke.
Feel doors with the back of your hand for heat, before opening.
Once outside go to a phone and call 911 to report the fire.
For more information on Exit Drills– click here
Did you know that cooking is the #1 cause of home fires and home fire injuries?
Follow the tips below to be safe while cooking in the kitchen:
For each pot or pan, you use, have its lid out to cover it.
Keep the cooking areas clear of combustibles.
Turn pot and pan handles inward on the stove so they can't be bumped.
Keep small children away from the cooking area while in use.
If any electrical appliance smokes or has an unusual smell, unplug it immediately, and don't use it until checked or repaired.