Fallen Firefighter Memorial
The Ventura County Fallen Firefighters Memorial is a lasting tribute to the firefighters who gave their lives to protect the citizens of Ventura County.
In the fall of each year, the Ventura County honors its fallen firefighters and their families at a memorial ceremony. The service features a reading of the names of the fallen, bagpipes, personal tributes, uniformed procession and the traditional Firefighter's Bell Ceremony. The annual service provides a place where people can spend time in the company of others who have lost a loved one.
About the Memorial
The Ventura County Fallen Firefighter Memorial was built in 2004 to remember those lost in the line of duty from traumatic injury or job-related illness. The memorial is located on the grounds of the County Government Center off of Victoria Avenue. It features a circular granite pedestal inscribed with the names of the 47 fallen firefighters and Firefighter's Prayer. On top of the pedestal is a seven-foot statue of a firefighter holding a small child. Three flagpoles serve as a backdrop to the Memorial.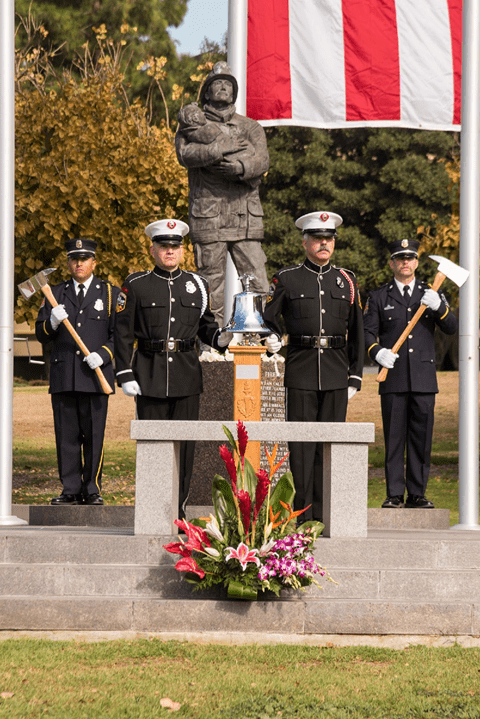 History
The Fallen Firefighter Memorial is the culmination of a four-year effort to build a permanent monument to honor Ventura County fallen heroes. It serves as a joint venture of the Ventura County Fire Chiefs Association, firefighter labor organizations, Rotary International and the seven fire agencies serving the county – Ventura County, Oxnard, Ventura, Federal Fire, Fillmore, CAL FIRE and the U.S. Forest Service.