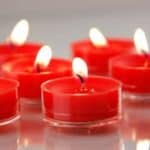 Candles have become a popular decoration in our homes. The wide variety of colors, shapes and scents have helped candle sales become a billion dollar industry. Each year, candle misuse causes approximately 9,300 residential fires in the United States and the results are $374 million in damages.
Follow these basic rules to prevent a fire from starting in your home:
Always keep burning candles within sight. Extinguish all candles when leaving a room or before going to sleep.
Always use a candle holder specifically designed for candle use. The holder should be heat resistant, sturdy and large enough to contain any drips or melted wax.
Keep burning candles away from furniture, drapes, bedding, carpets or flammable decorations.