1928 – On May 11, 1928, the Ventura County Fire Protection District (VCFPD) is established. Walter Emerick is appointed as the Fire Warden (Fire Chief). Fire headquarters is located at 845 E. Santa Barbara St. in Santa Paula. The building is still in use as the Ventura County Agricultural Commissioner's Office.
1930 – On July 11, 1930, a Fire Warden in the Santa Paula headquarters was on duty for a 24-hour shift.
1931 – The VCFPD purchased its first bulldozer in November.
1933 – First aid kits were added to all VCFPD equipment.
1942 – The Fire District hired its first handcrew to fight wildfires and repair forestry telephone poles.
1946 – Division Captains had radios installed in their trucks, all using the Sheriffs Dept. frequency. Total Fire District personnel: 34.
1950 – Division Captains reclassified as Battalion Chiefs.
1954 – The Battalion Chiefs devised a numbering system for the fire engines.
1960 – Fire station names were changed to coincide with the engine numbering system.
1964 – The VCFPD issued self-contained breathing apparatus (SCBA) masks to replace Chemox canister masks.
1966 – The firefighter work schedule was changed to a 72-hour, two platoon system.
1969 – A second radio frequency was added and a dispatch center was put into service at Fire Station 31 in Thousand Oaks.
1972 – Minimum staffing was instituted throughout the county, ensuring at least three people on duty in a station at all times. The VCFPD begins its Fire Cadet program. VCFPD apparatus color was changed from red to yellow. The Fire District's first aerial ladder truck goes into service in the city of Thousand Oaks.
1974 – The first diesel fire engines were put into service.
1975 – A mandatory physical fitness program is instituted.
1976 – A central dispatch center is established and headquarters is moved from Santa Paula to a location more central for the county in Camarillo. A 56-hour, three platoon work schedule is begun.
1980 – The Incident Command System is implemented by all partner agencies within Ventura County.
1983 – The 911-telephone system goes into service.
1985 – A special unit to respond to hazardous material incidents (Haz-Mat) is formed.
1986 – The VCFPD hires its first female firefighter.
1992 – VCFPD engine companies began carrying defibrillators.
2002 – VCFPD established its first paramedic program at Stations 31 and 45. Fire Boat 5 is placed into service as a joint venture between the Fire District and the Harbor Department.
2003 – The Ventura County Fire Protection District celebrates its 75th anniversary. From an organization formed in response to the fire protection needs of an agriculturally-oriented, mostly rural area, the Fire District has grown into an all-risk, first response emergency organization serving dynamic and diverse communities. The VCFPD headquarters facility in Camarillo is remodeled and enlarged from 6,492 sq. ft. to 28,492 sq. ft.
2006 – A new Support Complex housing the Wildland/Aviation division, Supply Unit, and Repair Facilities open in Oxnard. Computers are installed in all Fire District structural engines, ladder trucks, and command vehicles to implement computer-aided dispatch.
2007 – Total Fire District personnel: 645 (uniform, civilian, reserve, and seasonal). A new, state-of-the-art Fire Communications Center opens at headquarters in Camarillo.
2014 – Simplex radio system developed. This improves the reliability of radio communications throughout Ventura's diverse and rugged geography.
2015 – Water rescue program becomes certified by the United States Lifesaving Association. VCFD's rescue swimmers are trained to the same standards as lifeguards.
2016 – Countywide dispatch for all agencies – VCFD's Fire Communications Center (FCC) — begins dispatching for every fire agency in the county of Ventura. This transition streamlines requests for service and enhances communication between all agencies.
2017 – The Cardiac Arrest Management (CAM) Program is established countywide. All firefighters and Emergency Medical Technicians in the county begin training in team resuscitation, defined roles, and continuous compressions. The VC-EMSA sees a significant jump in survival rates.
2018 – EMTs' scope of work is expanded. VCFD firefighters receive training to use medications and interventions such as naloxone, epinephrine, CPAP, and glucometers. This allows for quicker implementation of these lifesaving treatments previously reserved for paramedic use only.
2018 – VCFD begins providing fire service to the city of Santa Paula. The firefighters already serving for the Santa Paula Fire Department become VCFD firefighters.
2018 – Woolsey Fire. This massive fire burns 96,949 acres, destroys 1,643 structures, and causes 295,000 people to be evacuated.
2019 – Squad 26 goes into service in Santa Paula. The squad serves as a dedicated paramedic fire resource for the city of Santa Paula and the 126 corridors. It provides quicker, more dynamic service for the city of Santa Paula. Firefighter paramedics can now enter compromised vehicles and begin advanced life support in the vehicles.
2020 – Copter 2 begins servicing Ventura County. This is the first military surplus Sikorsky UH-60 Blackhawk used for firefighting by Ventura County.
2023 – Four rescue ambulances are put into service in Camarillo, Santa Paula, Simi Valley, and Thousand Oaks. The rescue ambulances upgrade paramedic squads, adding transport capabilities when an ambulance from the county's privately owned provider is not available.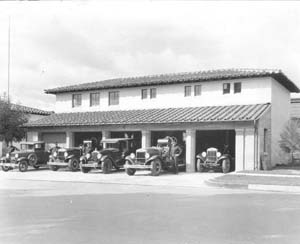 VCFD First Fire Station and Headquarters. Santa Barbara Street in Santa Paula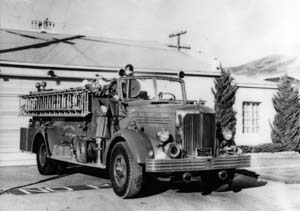 VCFD Ventura Avenue Fire Station 24 1948 Engine
VCFD First Ladder Truck 1972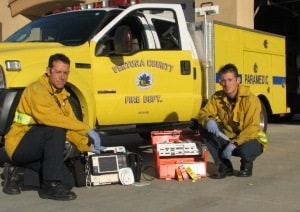 Chiefs - Ventura County Fire Department
| | |
| --- | --- |
| Walter Emerick | 1928-1936 |
| Lucius Orton | 1936-1944 |
| Cecil "Pete" Little | 1944-1957 |
| Bill Haggard | 1957-1971 |
| Stan Masson | 1971-1985 |
| Wesley B. Kilcrease | 1985-1988 |
| Rand-Scott Coggan | 1988-1990 |
| George E. Lund | 1990-1994 |
| James E. Sewell | 1994-1997 |
| Bob Roper | 1997-2012 |
| Mark Lorenzen | 2012-2022 |
| Dustin Gardner | 2022-Present |
1928 – Santa Paula (also headquarters), located at 845 E. Santa Barbara St. in Santa Paula.
1931 – Piru, located on Market St.
1930 – Ventura, a temporary station near Ventura Ave. is established in a Shell Oil facility. In 1932, the permanent station at 113 E. Vince St. (east of Ventura Ave.) outside the Ventura city limits is completed.
1931 – Port Hueneme, a "fire garage" is established at Market St. A permanent station is constructed at 304 Second St. in 1948.
1932 – Thousand Oaks, a fire engine is delivered to a station built at the Lion Farm (later known as Jungleland) that is currently the site of the Thousand Oaks Civic Arts Plaza. In 1942, a temporary station is established at Lake Sherwood. A permanent station is constructed in 1949, along with a new station on Erbes Rd. to replace the Jungleland station.
1935 – Camarillo, the first fire engine in Camarillo is stored in the Knob Hill Garage at 2401 Ventura Blvd. In 1941, Adolfo Camarillo donates the land and building for a permanent station on Ventura Blvd. near Fulton St.
1937 – Simi Valley, a permanent station is constructed south of Los Angeles Ave. at Fourth St. and Pacific Ave.
1938 – Oak View, a Chevrolet flatbed truck with a 300-gallon water tank and a 500 gpm pump is delivered to Oak View. A two-stall station is built on Kunkle St. in 1948.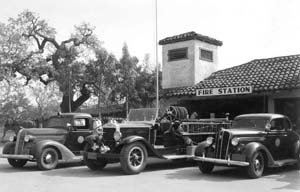 Thousand Oaks First Fire Station 1932
The 1928 Fire Season
In unincorporated Ventura County:
Fires: 37 – including six structures and 2,820 acres of vegetation.
Budget: $20,000
Total calls for service in 2022: 52,012